We started exploring Ukraine with its most western city – Lviv. By locals often called city as a city of rain and by tourists perceived as a capital for never ending fun. While wandering through Lviv you cannot miss many bars and restaurants situated in all those colorful old town buildings. In this article we want to highlight in our opinion most outstanding places, thus, if you are looking for a great recommendation where to go while in Lviv, this article is for you.

Most of the city's top attractions are located in the old town of the city. Bars and restaurants are not an exception. We encourage our readers to investigate beautiful architecture, churches or even dungeons on their way of unlocking the secrets of Lviv.
"Kryivka"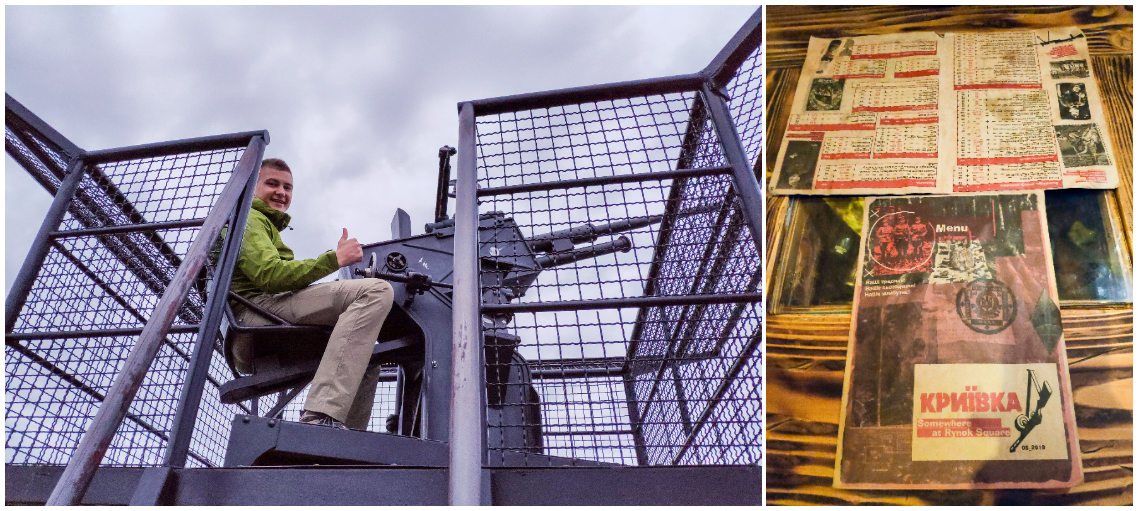 "Kryivka" - a guerrilla war bunker located in the city center. To get in you need to knock on the door, a war veteran with a gun in his hands opens and greets you. You must say a password: "Slava Ukraini" which means "Glory to Ukraine". Then follows second question which want to identify whether you are a "Mascoli" or not. "Mascoli" is a person who lives in Ukraine, even though, he does not like Ukrainian food, culture, alcohol, sweets, weather, and always complains about everything, including politics and even does not like Ukrainian women, however, he still stays here in Ukraine. If the guard has some doubts, he checks you with a drink of Vodka & Honey. At first we were not sure what we drank and all our friends efforts to advise us not to drink shady drinks from strangers went in vein. Apparently, "Mascoli" dies on spot after drinking it, so be aware. After you pass the trials, he opens a secret passage door to enter guerrilla war bunker. It is made from two parts. First, is the outside garage where after climbing on the roof you can find old land-air defense system. Second, is underground bunker, where right now they have placed a restaurant. The design there resembles how bunkers looked like in the old days. Place has its own smell, from one perspective it can be viewed as a museum, because it has a lot of details from the past. More guerrilla war bunkers of Ukrainian partisans can be found in mountain areas or forests.

Restaurant is open every day and works 24 hours per day. Do not forget the password and enjoy!
"Masoch-café"
"Masoch-café" - a cafe which at first glance looks like a "Playroom" for adults. Red glooming lights, dark-colored walls, waitresses wearing "Special" equipment. While we were there, we witnessed few performances of waitress and guests. First guest was asked to take off his shirt by the waitress, then she covered his eyes and tied his hands. Afterwards, did various things which included: ice, wax, whip & alcohol. Second guest got away much easier, after he asked for a discount he got whipped by the waitress for as many times as many percent of discount he asked. So, be careful before asking for a discount there. For both of us these performances seemed unusual, intense and breathtaking. We imagined that these things happen only in movies or behind closed door, however, here in Lviv, everyone is welcome to explore their fantasies and secret passion in public.

Café is open every day from 4PM till 4AM. Be careful asking for a discount and enjoy!
"Pravda Beer Theater"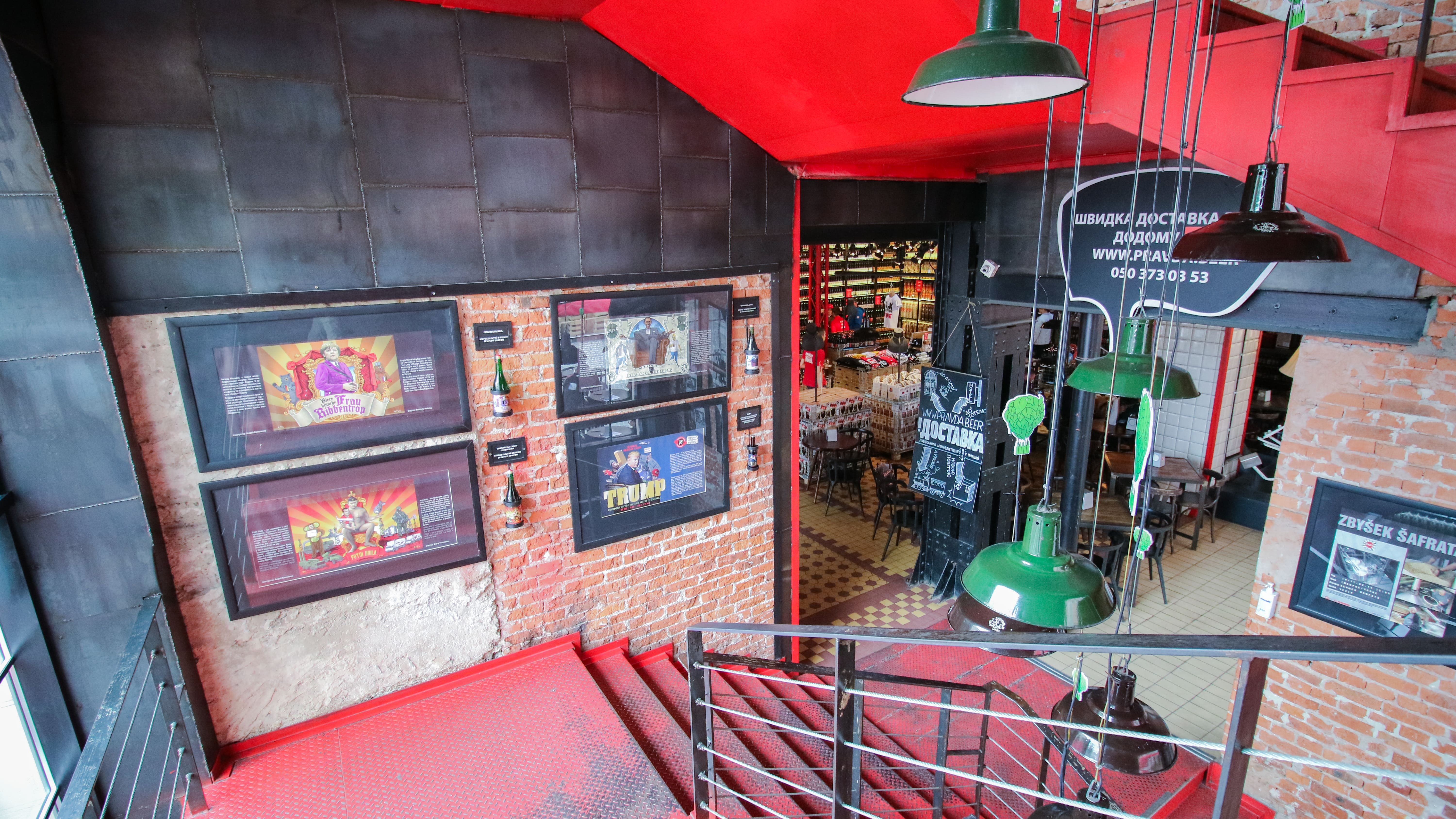 "Pravda Beer Theater" is located in the main square ("Rynok") where you can relax and enjoy a glass of beer in famous "Beer Theater". After thoroughly analyzing beer menu we picked Czech strong golden ale - "Putin Huilo". In the Theater everyone will can find a beer for themselves as there are a ton of choices listed. The prices are alright, and we believe that it will be fun to try blanche beer "Frau Ribentrop" with Angela Merkel on its cover or "Obama Hoped" stout. Keep in mind that beers brewed in "Pravda Beer Theater" have collected 14 awards in world beer competitions.

Bar is open every day from 10AM till 2AM. Here you will definitely find a bear for yourself! Enjoy!
"Arsenal. Ribs and spirits"

"Arsenal. Ribs and spirits" is a restaurant where we had simply amazing lunch. This place was recommended to us by various friends and by quite few locals, we just could not miss this opportunity and it was worth it! "Arsenal. Ribs and spirits" is swamped by tourist during whole day, however, we managed to come not long after the opening hour and did not need to wait in the line (there was already a line when leaving). Either we were really hungry, or chef was a real professional, but we found the food so Great! We did not even notice when we ate close to a kilogram of meat and everything costed us less than 10 EUR.

Restaurant is open from 12PM till 12AM from Monday to Thursday; From 12PM till 2AM on Friday; From 11AM till 12AM on Saturday and Sunday. Ribs here are magnificent! Do not miss it for anything!
"Lviv Coffee Manufacture"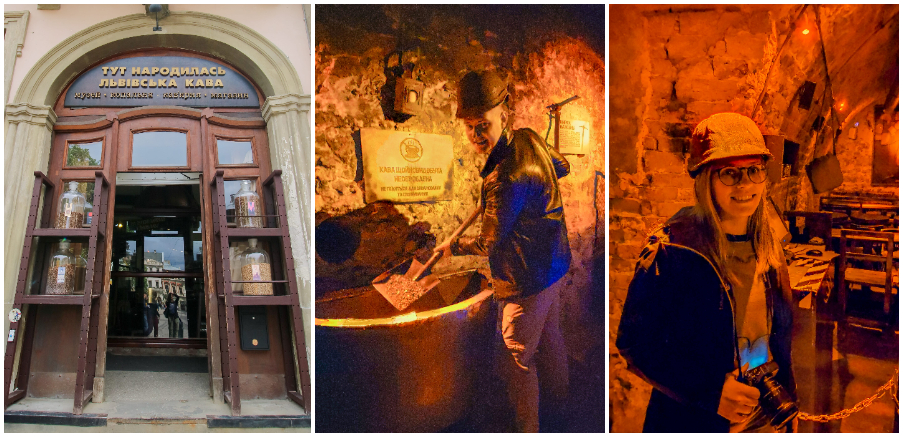 "Lviv Coffee Manufacture" is not an actual mine of coffee but rather an underground cafe situated near the Town Hall where you can try unique and famous "Flaming coffee". We went underground into the dungeons with a wish to witness this process. On entry to the underground you get a helmet and believe me it is not just for show! After couple turns, I found out about helmet's real purpose. Most of the time underground coffee bar will be crowded with tourists.

Cafe is open every day from 8AM till 12AM (On Tuesday, Wednesday, Thursday and Sundays); till 1:30AM (On Friday & Saturday); till 11PM (On Monday). "Flaming coffee" is worth a try!
"Drunken Cherry"
"Drunken Cherry" is a bar in the Town Hall square where you can try some unique Lviv's liquor. It is comparatively cheap, and we found it to be very tasty drink! Even though it originated from Lviv, now it is spreading through the entire country and you can even find their bar in Odessa.

Bar is open every day from 10AM till 12AM. Visit for at least one glass, it is worth it!
"Opera Underground"
Before going to the "Opera Underground", we did not have the chance of reading reviews. And we think that its great since we would probably skip it for many other places which are in the city. However, this place is a hidden gem that has not only great cocktails but also amazing way of presenting beverages (Every cocktail has a different way to be presented and believe us - you will not get disappointed!). Moreover, interior is interesting, and you can witness the river flowing beneath the Opera and Ballet Theater on screen here.

Is there anything else you would like to visit while in Ukraine?

If you have anything in mind, please let us know and let's discuss it.

For more traveling tips subscribe to our newsletter!