Thessaloniki is underrated and overshadowed by beautiful Greece islands and Athens. However one of the most important cities in whole Balkan Peninsula has to share a lot of stories with visitors about it's citizens, cultures and history that counts more than 2300 years.

The city filled with the numerous monuments that remarks different eras, civilizations and their lifestyle. But there are some places you will not find on "Google" neither it is historical monument, just a small charming street revealing the the stories of local people. We want to encourage our readers to put maps away, get lost for a while and just wander around the city, to feel the uniqueness of Thessaloniki.
Get lost in Ano Poli
The Ano Poli or the old town is the highest part of Thessaloniki overlooking the whole city and sea. The area is characterized by traditional Ottoman architecture, colorful houses in the Macedonian tradition, stone-paved streets and many stairways. It is by far the most authentic and charming area of Thessaloniki and it is not overcrowded by tourists.
We wandered around its narrow and tortuous streets, breathing in the unique atmosphere of this ancient and very quiet neighborhood. Getting lost and discovering amazing places around every corner is the best way to experience Thessaloniki.
Explore Ancient Monuments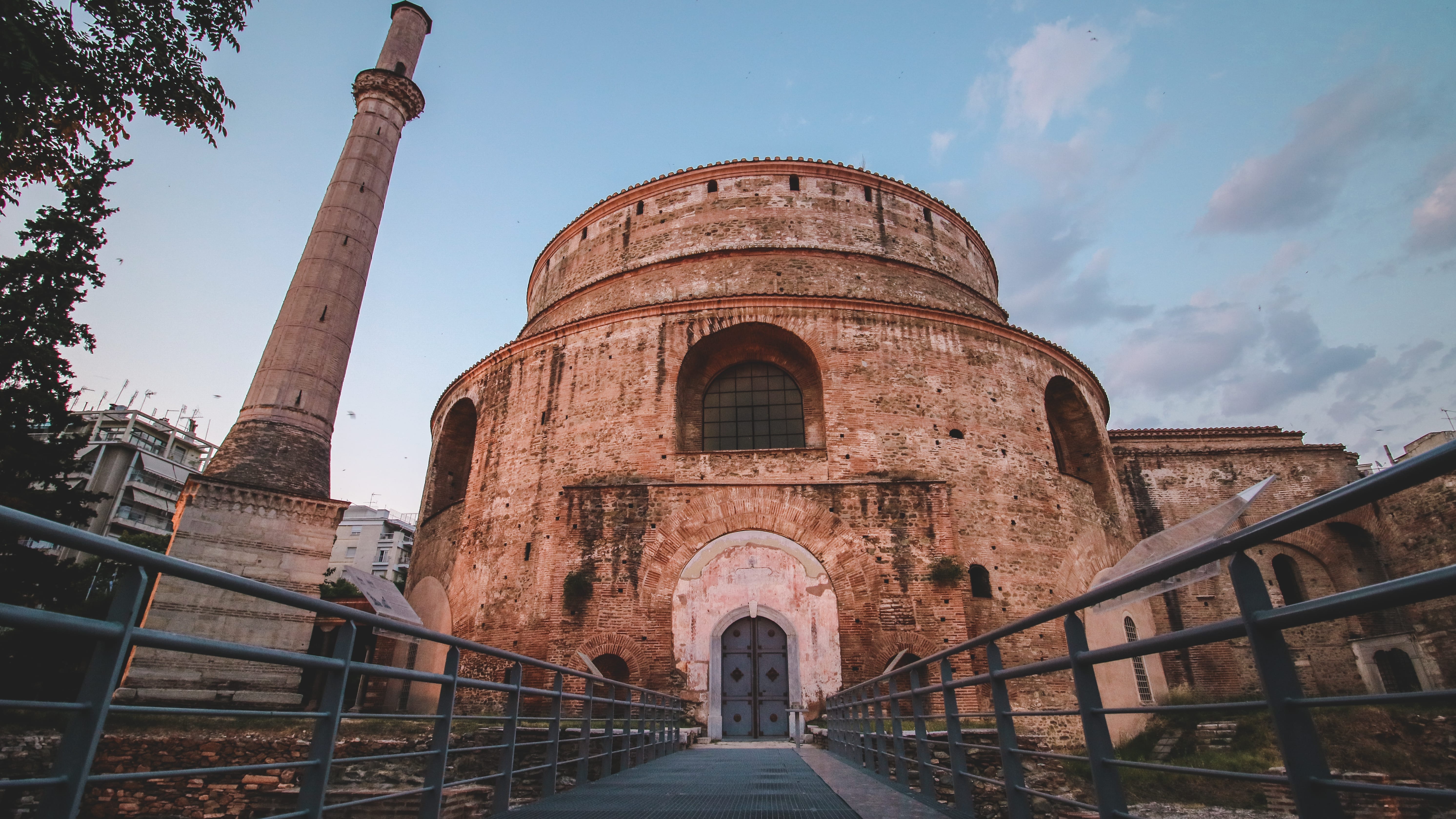 The whole of Thessaloniki is UNESCO listed as an Open Museum of Early Christian and Byzantine Art. The city went through stormy history as it was included in several wars and has been built or rebuilt couple times. But the evidences of Roman, Byzantine and Ottoman empires are spread all around the city, each standing out like a gem in its modern metropolis.
The most famous is White Tower is a symbol of Thessaloniki, 15th-century Ottoman fortification that replaced replace an earlier Byzantine fortress. Behind residential buildings you can find ancient Byzantine baths. Also visit Rotunda, a huge and impressive example of late Roman architecture and once used to be a part of Roman emperors palace.
Try Street Food
The main streets of Thessaloniki full various small restaurants, bars and other places where you can get a nice street food. We tried a Kebab from "Kebab Grill" and we enjoyed, meat lovers should also do! Thessalonians also like pizzas, there are plenty of small kiosk selling freshly baked slices of pizzas. You should try them! They are so tasty!
Enjoy the Sunsets
Climb up to the Byzantine walls and take a look to the whole of Thessaloniki at sunset, you see what a sprawling, organic city it is. The new and the old towns make up a cohesive whole: Arch of Galerius, busy shopping streets and the most famous sight, the White Tower that adorns a waterfront.
Stay out All Night
If you are nightlife person, Thessaloniki should be your next travel destination! The revamped waterfront area is great for walking during the day. By night, it reverberates with music and nightlife. Many people just walking down along the seaside, chilling in the bars, singing, dancing or even having a party on a ship! You will be fascinated by atmosphere spreading in the air! No surprise why Thessaloniki is considered to be one of the top ten cities in the world for nightlife as it has more bars and cafes per capita than any other city in Europe.
When we first arrived at Thessaloninki we thought there is nothing special in this city. But we were wrong, it has amazing atmosphere, deep history touched by different civilizations and charming streets of Ano Poli. So take some time and explore Thessaloniki thoroughly!

Best of luck planning your holidays in Thessaloniki!

Is there anything else you would like to visit while in Greece?

If you have anything in mind, please let us know and let's discuss it.

For more traveling tips subscribe to our newsletter!