Cappadocia – not an actual city but rather a majestic region in central Turkey. It has unique and distinctive landscape full of wonderful little towns including, marvelous valleys, cone-shaped rock formations and many caves inside beautiful mountains!

This area is most famous for hot air balloon flight in the morning of a beautiful day and spooky underground cities. As well as, handmade vintage Turkish carpets.

In this article we want to share our incredible adventurous hike through out most beautiful places of Cappadocia. We passed by castles, caves or even cave towns, valleys, mountains, villages and just majestic landscapes. We hiked until we reached our camping spot where we got to enjoy a magnificent sunset in the evening and breathtaking view of hot air balloon flight in the early morning.
Hitchhiking from Nevsehir to Uchisar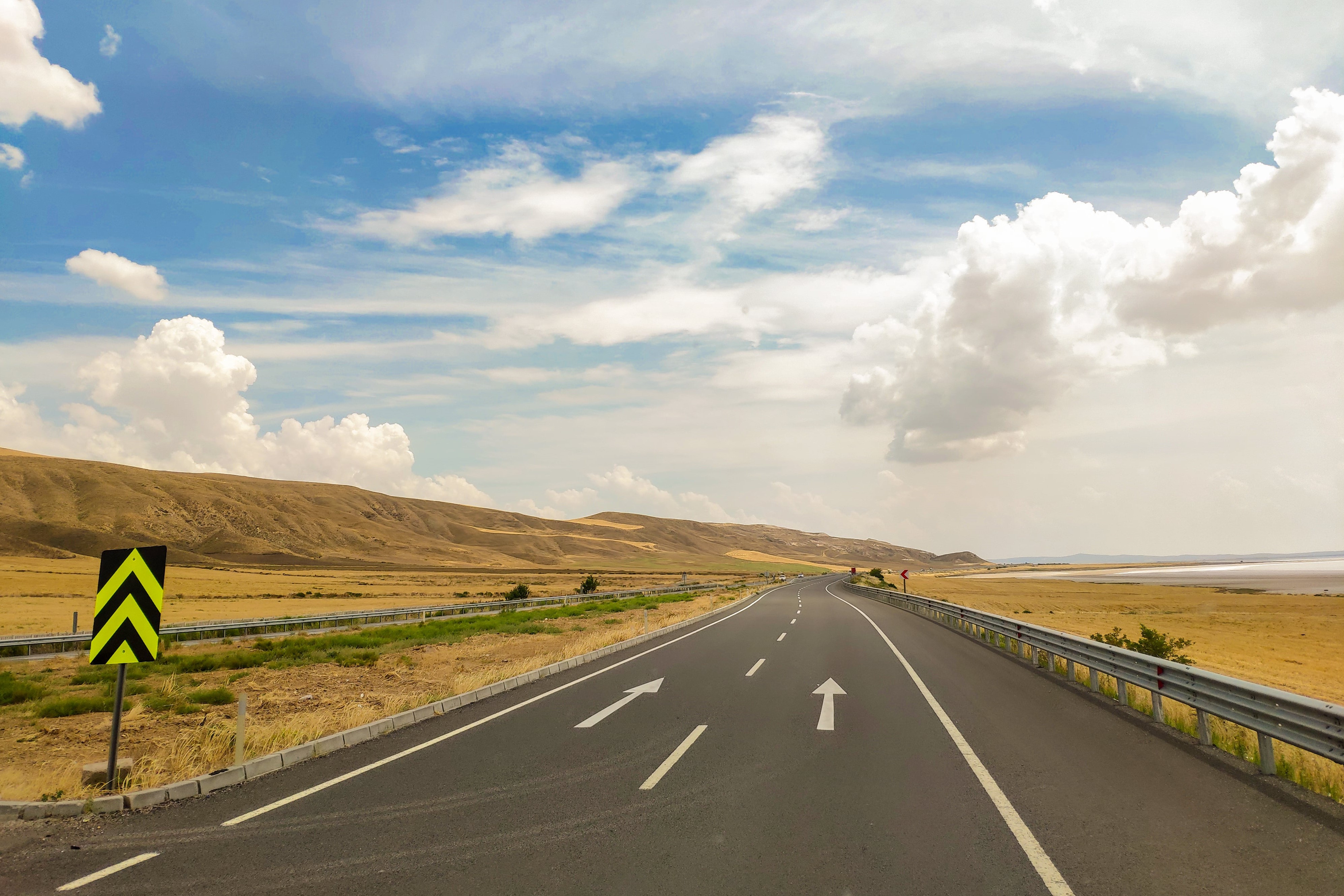 Our trip started in Nevsehir town. We woke up early in the morning, had little breakfast, left our host house and headed to the road. It is possible to walk from Nevsehir to Uchisar without high difficulty as the distance between these towns is only 9 kilometers. However, we wanted to have as much time to spend in the region of Cappadocia as we could possibly have. Catching a ride was quick and easy, we reached Uchisar in a blink of an eye.
Exploring Uchisar Castle and its Old town
Uchisar Castle and ruins of whole cave town around it is something incredible! For us it was something unique and never seen before. We enjoyed every minute we were able to spend there.
Right next to the Castle there is charming and bright Old town which is nice to get lost in. A lot of small restaurants and hotels from which rooftops there is a possibility to witness hot air balloon flight in the morning. The city is being constantly reconstructed and renewed, however, if you walk out off the beaten path, you can still find authentic cave houses where people live till nowadays.
Hiking through Pigeon valley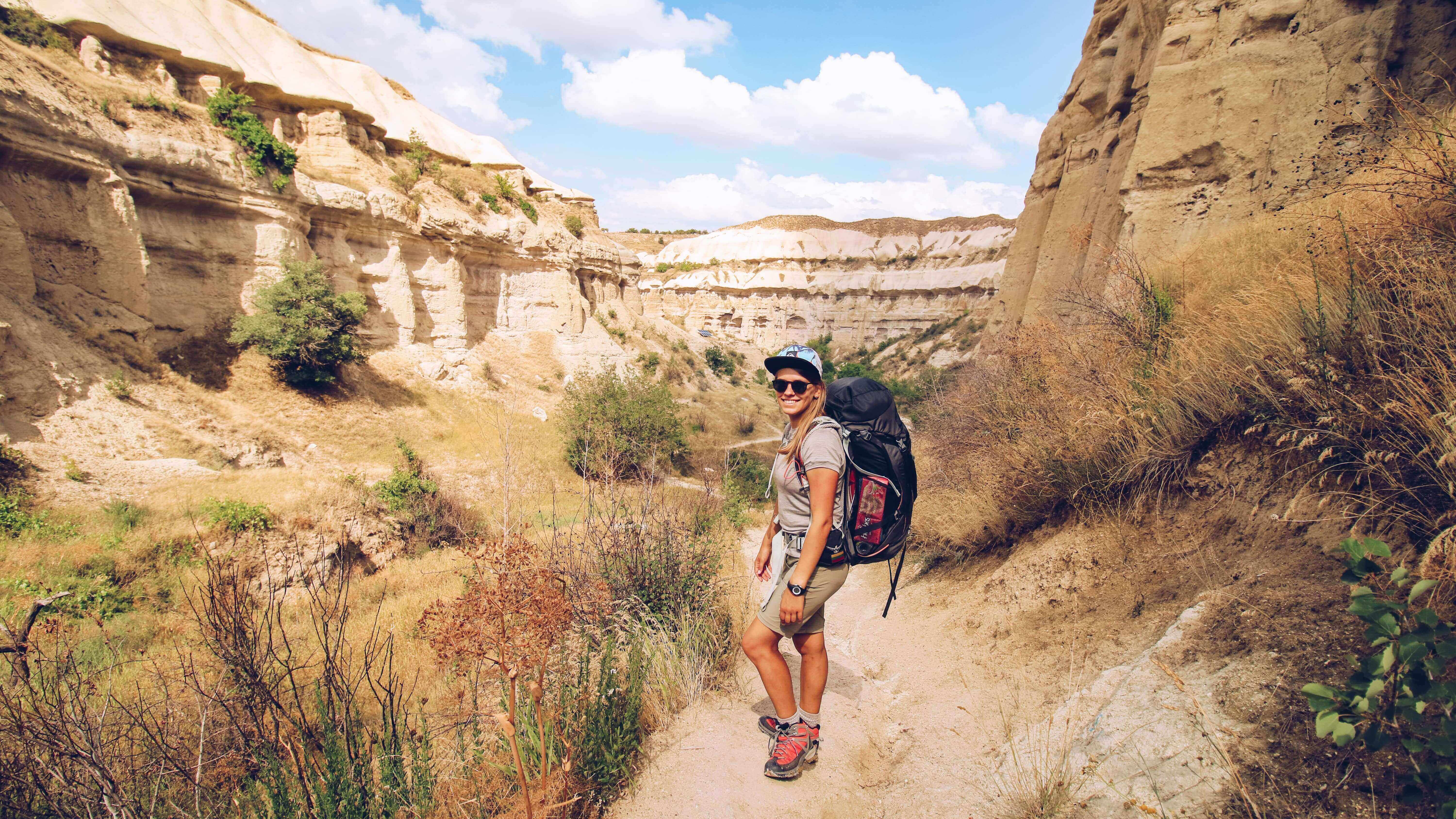 While walking from Uchisar to Goreme we visited a truly inimitable place! One of the valleys is dedicated to pigeons and even called – Pigeon Valley. Differently than today in ancient times Pigeons have been used in the Cappadocia region for food and fertilizer for the infertile soil. Locals valued birds and even carved dovecotes (Pigeon Houses) into soft volcanic tuff.
Hiking though this strangely shaped canyon made us feel like in a different part of the world. Volcanic rock dotted with pink flowers and hundreds of evil eyes swinging in the air makes the place look magical and mysterious.
The center of Cappadocia - Goreme town
When we arrived Goreme seemed like a beating heart of the region with so many tourists and grand hotels around that you can even forget where you are. Nevertheless, this city is close to everything including Goreme Open Air Museum, with cave churches and frescoes from the 10th to 12th centuries, handful of marvelous valleys and other tourist attractions. Here you will be able to book a hotel from which you can see the famous hot air balloon flight in the morning or spend a night in an actual cave room which was carved into a rock.
One of our goals inside this town was to witness how they are making unique, handmade and vintage Turkish carpets. We went through many different carpet shops and were astonished with the carpet making techniques, accuracy, quality and price ratio we can bargain here.
Lunch break at Goreme
It was already afternoon when we finished our venture through the town. We understood that after this we are going to hike through various canyons in order to reach our campsite and no restaurants will be available there. Thus, we had to fill our bellies full of delicious and hot food here and now.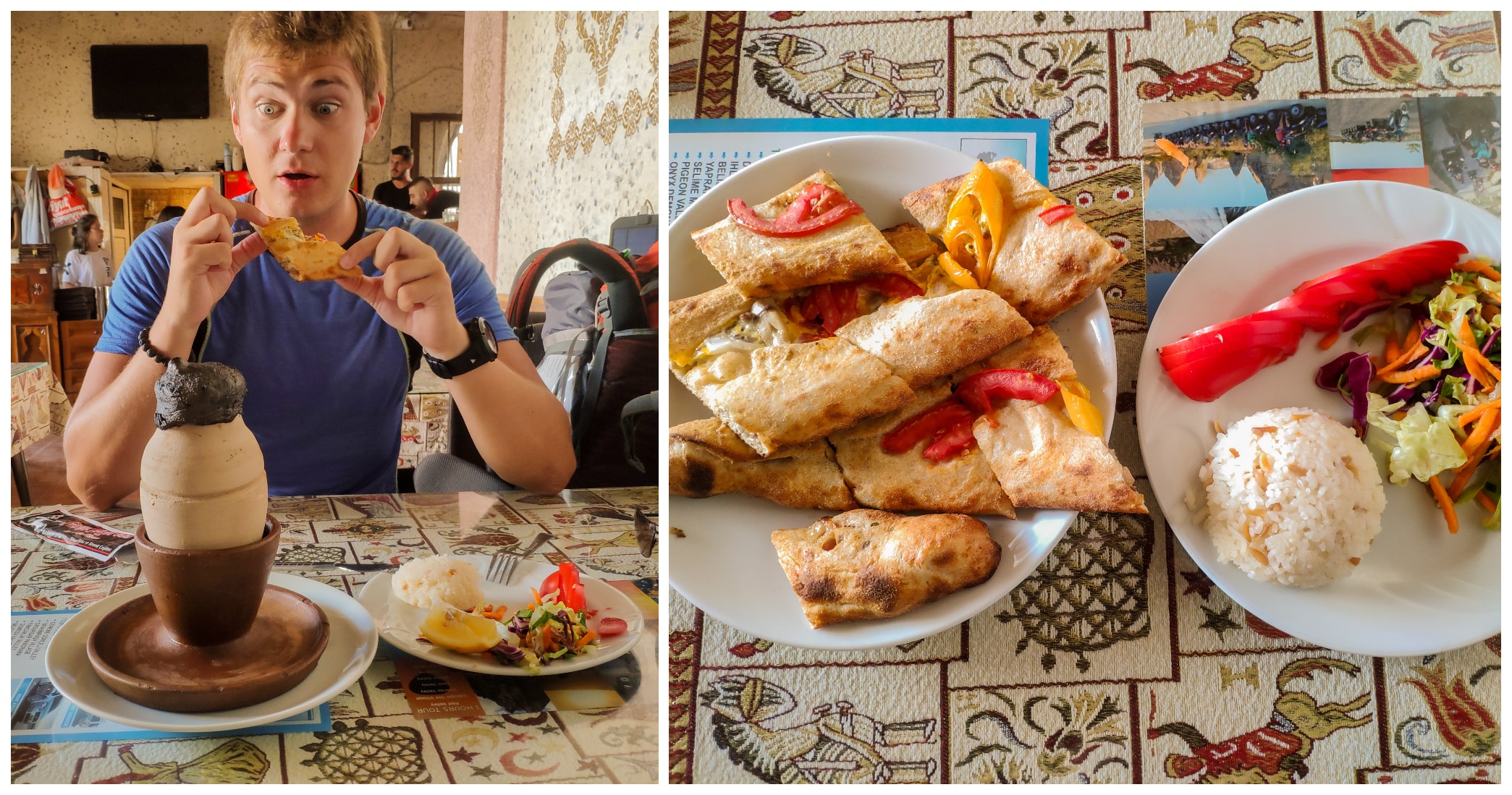 In the center of the town we found this lovely local restaurant called – "Firin Express". We had an amazing lunch with a dish prepared in a clay pot which was opened (broken) on our table with a sword. If that is not special, then we do not know what is! That was local Cappadocian dish of vegetables and meet, tasty and unique!
Hike from Goreme to our camping spot
Satiated and pleased with our lunch, we started our hike to the camping spot. We knew there will be multiple marvelous valleys on our way, and we could not hold our excitement. First, was a Sword Valley which is actually not so far from the city and is one of the smaller ones in Cappadocia but has the longest tunnel instead. Nearby we found a horse farm with many differently colored horses running around. It is quite popular to take a horse ride around valleys in Cappadocia, especially between those who have difficulties with longer distance hikes.
Red Valley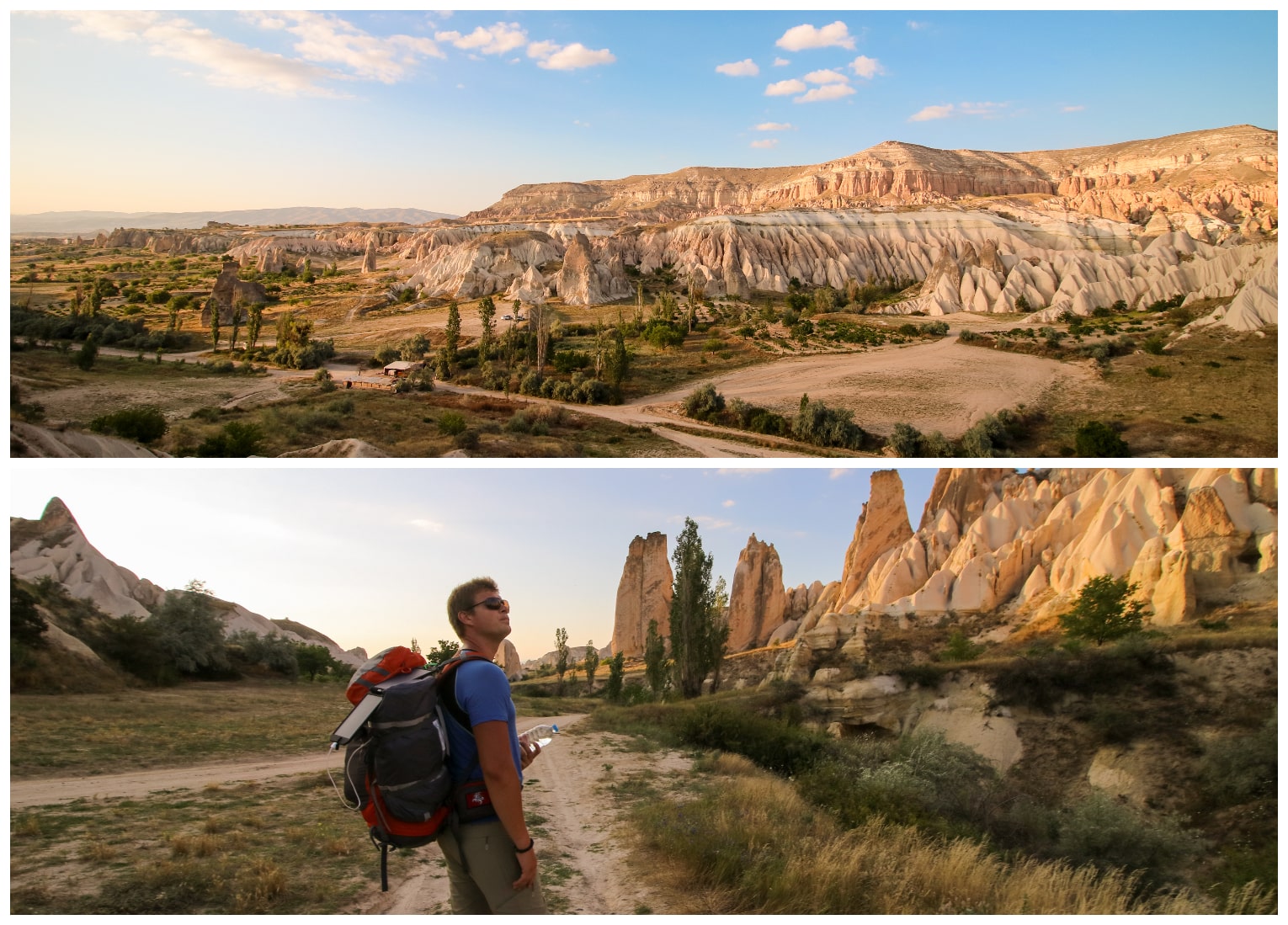 The path led us to colorful and unique Red Valley. Exploring the colors and astonishing structure of Red Valley rock formations was an amazing experience. We enjoyed strolling around the massive walls of rock, going inside narrow paths winding through mountains where you do not know where you could end up. We came across local household where the entrance to their home was situated in a height of 10 meters on a vertical wall, only reachable with a ladder.
Enjoying a majestic sunset
Finally, we also had to use multiple ladders to climb some of the huge walls in order to get onto the mountain and successfully reach our camping spot. Reaching the top was rewarding as we had a chance to witness most stunning sunset in our whole trip until that point. Keep in mind that most wonderful and vibrant colors of Cappadocia show up only during the sunrise or the sunset when the sun is low and not direct.
Stargazing from our five billion stars hotel
Once the sun drowned into horizon, we started to build our portable house. We were on a mountain top, completely alone, surrounded by cluster of brightly shining stars appearing one after another. The wind was blowing lightly but constantly, and weather started to get a bit chilly outside. Whatsoever, it did not stop us from watching the night sky from our five billion stars hotel.
Incredible sight of flying hot air balloons
We had our alarm clock ready to wake us up in order not to miss the hot air balloon flight. The whole day of hiking and exploring the region had its toll on us – we were completely wasted. We wanted to rest badly. However, hot air balloons were the reason we decided to camp in this exact spot in the first place. Thus, we had woken up multiple times to check whether they are already in the sky. We wondered "maybe today the conditions are bad to fly?" before quickly falling back to sleep.
Suddenly, we woke up, not because of our alarm clock but due to hearing a loud and very unfamiliar popping noise. Until we looked out of our tent, we did not understand what it is, however, deep down inside both of us wanted it to be the hot air balloons flying in the air. And it was!
We Quickly dressed up and got out of the tent, sky was half full of the incredible number of hot air balloons. More and more hot air balloons started rising from every corner until it filled the whole sky around us. Some of which were going through canyons, some went high up in the sky and some were just strolling above the mountains.

The sight was unbelievable! Everything happened just in front of us, some of the balloons went past us in less than 100 meters distance as we were situated on a perfect spot on top of a mountain.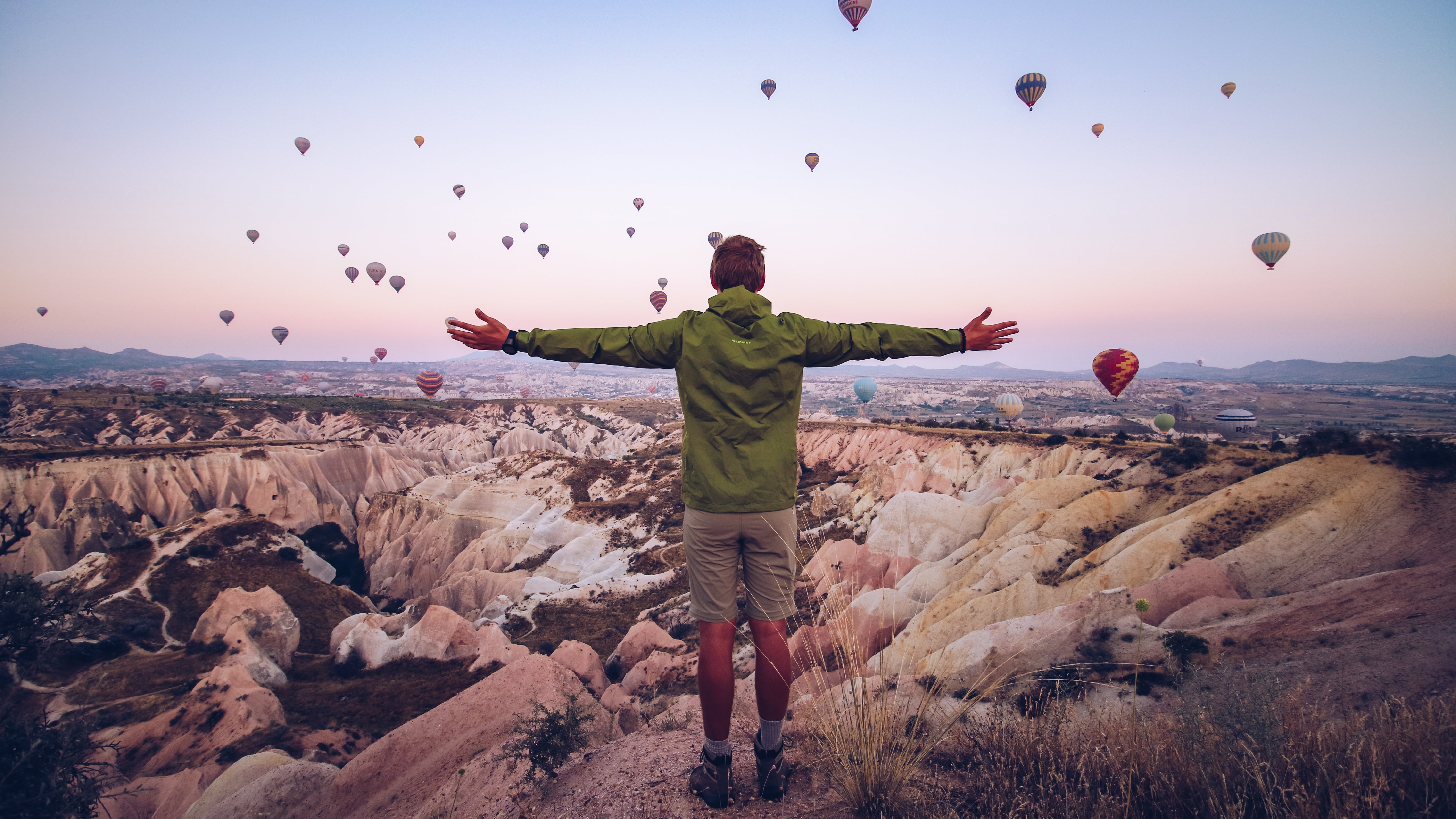 After making tons of photos and videos we sat down and enjoyed the moment. After being able to have this unique experience alone we believe that Cappadocia is definitely one of the main reasons why you should visit Turkey!
How to get to Cappadocia?
To get to Cappadocia you can use car, bus, train or plane which ever you think is more convenient for you. This region is highly visited by tourists where to get around best is on foot exploring wild nature! Other best option is 4-wheeler, a horse or personal car. Sometimes taxi might be a quick option as well. However, if you live in either city inside the region of Cappadocia we highly recommend walking around! Lovely walks through the area will reveal true beauty of this marvelous region!

Best of luck planning your holidays in Cappadocia!

Is there anything else you would like to visit while in Turkey?

If you have anything in mind, please let us know and let's discuss it.

For more traveling tips subscribe to our newsletter!