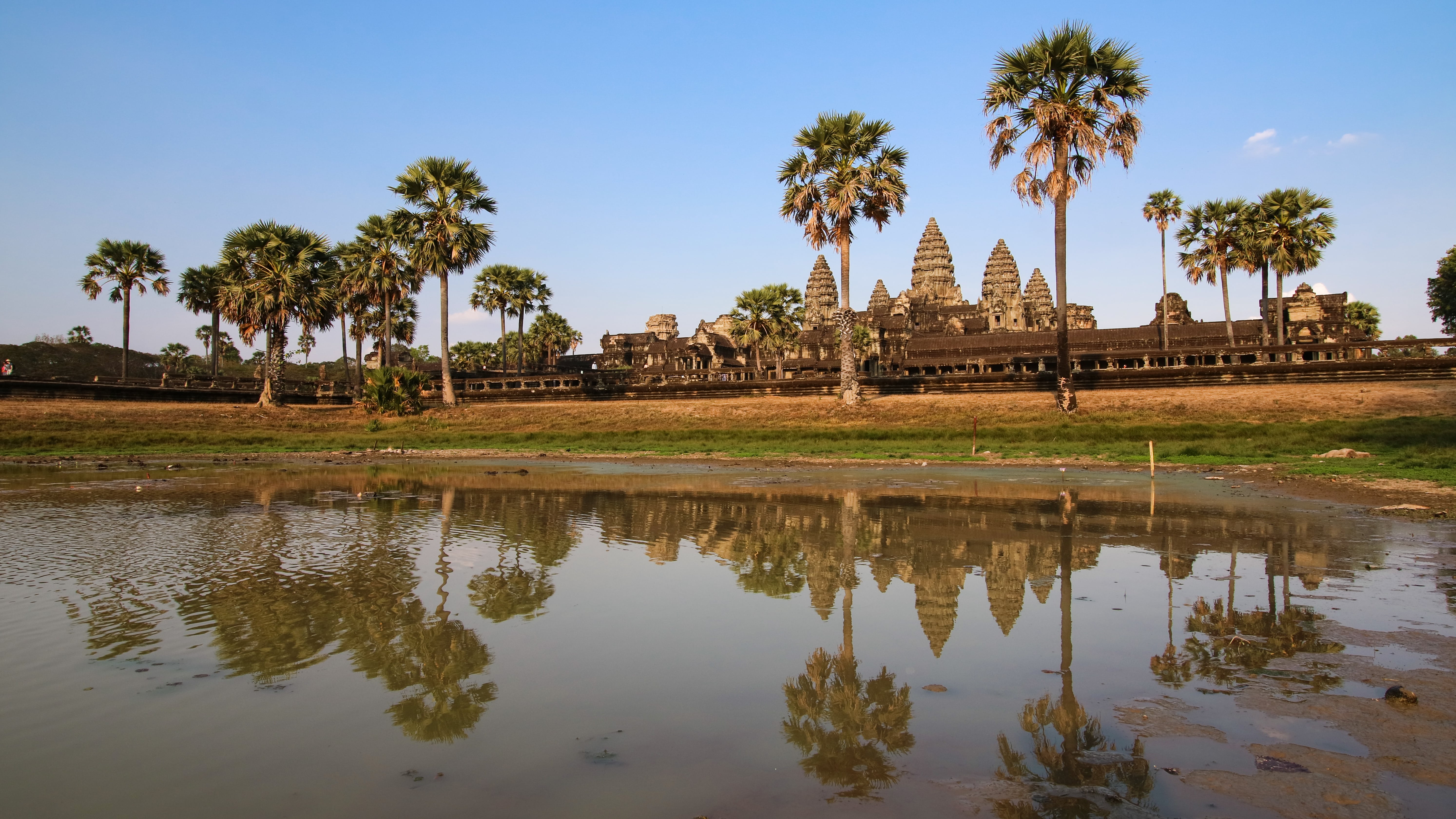 Siem Reap
Siem Reap is the embodiment of contrasts surrounding Cambodia. Thanks to Angkorian ruins Siem Reap became a boom town and underwent huge development in less than a decade. Even though, huge and expensive hotels followed with budget accommodation lead Siem Reap to lose some of its previous slummy charm it also brought wealth to good number of city's citizens. However, this came with a cost that had to be paid by underprivileged people living within or around Siem Reap. These people are facing survival every day with inflated market prices which is hard to grasp when you are a simple fisherman or a farmer instead of working in enormous and profitable tourism industry.

This northwestern resort town of Cambodia which name literally means Siamese defeated is a gateway to the ruins of Angkor, the seat of Khmer kingdom from 9th to 15th centuries. Most of travelers who come to Siem Reap is due to the Angkorian ruins, however, there is plenty to do here and around the city when you finish visiting the temples. City could be called the center of Cambodia or major tourist hub as with visitor number it may surpass all other cities combined. Therefore, here it is easy to find everything from world-class food in local restaurants to easygoing backpackers hostel paradise.

The Angkor Park is a vast complex of puzzling stone buildings. Traveling inside the area is divided into two main circles. The big circle and the small one, both covering similar number of temples and distance though. Although it is highly unrecommended, it is possible to go around both circles in a day. We believe that it would be a torture to say the least. This place was built to be indulged and not hasten. The main buildings include famous Angkor Wat which is also pictured on Cambodia's flag. Also, Bayon Temple situated in Angkor Thom where you can find massive, mysterious faces carved instead of the roof. However, there are lots and lots of smaller not that well known temples around the area. Personally, we enjoyed the most temple called Ta Som, which is a small and majestic temple built at the end of 12th century in north east of Angkor Thom. If you are young, strong and crazy explorer like us, two days should be enough for you to go around most of the temples in the Angkor Park.

Plan some time to relax after the wandering around the temples and enjoy what the majestic gateway city has to offer! Regardless the massive shift in its economic fortunes, Siem Reap remains a safe, friendly and pleasant town for everybody. On top of that, there is practically endless choice of places where travelers can stay, eat and activities where they can take part in.
Helpful tips
---
Restaurants. There are multiple places in the city where you can find descent food. In most of the local restaurants you will find price and quality ratio alright and food fresh. The price and quality ratio in this town is the best in whole country! There is so much competition which makes it a paradise for customers. In some restaurants they even have aquariums where you can enjoy a free drink while getting a fish massage for just $1. Stop by and try local food in street markets, look for a cleaner place and enjoy!

We usually enjoyed food not far from where we stayed, also, in our hotel, or in the main pub street where most of the town's restaurants are located. Compared to other cities we visited in Cambodia, Siem Reap looked so cheap to eat, to party and to have a great rest if you need it!

Markets. In Siem Reap not as in almost every other city in Cambodia you will easily find a lot of cheap souvenirs to put on your fridge. However, we encourage to walk around and look for hand made goods in local markets. Here they will charge you more if you look like a tourist. In shops all over city prices vary around same level, thus, choose a more convenient for you. We did find that "Angkor Mini Mart" and "Smile Shop Mart" shops they would accept card payment when you spend above 5 USD, however, there are much more small shops and markets which do not accept it, thus, be prepared and have some cash with you!

Transportation. To get to Siem Reap you can use car, bus, plane or even boat as it is the capital of tourism of Cambodia, it has great accessibility. We traveled to Siem Reap using hitchhiking from Kampong Thom. The road quality is alright, they are not massive but well maintained. We got lucky and reached Siem Reap just before they close the ticket office to Angkor National Park. Either way you choose, be aware that infrastructure is not bad but clearly not the best, roads are small and sometimes two-line road (one line each direction) is already considered as a highway. So, do not forget to enjoy the trip not only the destination.

Inside the city you will find yourself using local Tuk Tuk's, bikes or mopeds which are one of the most convenient transportation devices used to get around. However, exploration is doable on foot if you decide to skip on bike. The city is relatively big but the Temple area is truly huge, thus, most of the people use at least simple bikes if not mopeds.
Best of luck planning your holidays in Cambodia!

Is there anything else you would like to visit while in Cambodia?

If you have anything in mind, please let us know and let's discuss it.

For more traveling tips subscribe to our newsletter!