Romania is one of the most religious countries in whole European Union. Therefore, it is not uncommon to find various churches, monasteries or other places of prayer scattered all around the country. However, there are couple special places which locals admire – Colorful Monasteries - there you can witness magnificent paintings on the exterior of the buildings.

When we look back to history, we find more reasons having so many holy places in Romania. One of them is that during Ottoman rule all forts were destroyed. The only way to defend against the invaders people had by fortifying churches and that is how – Fortified churches emerged.

If you are wondering where to go and what to visit while in Romania – these monasteries and unique churches are worth considering! In this article we will point out Colorful Monasteries which we visited, and the reasons why it was worth it. So, if you want to read more about the Colorful Monasteries & Fortified Churches in Romania, this article is right for you!

Starting with in our opinion worst but most popular place you could choose to experience beauty of Colorful Monasteries in Romania. We strongly encourage our readers to look outside the most famous locations and travel around Romania more!
Voronet Monastery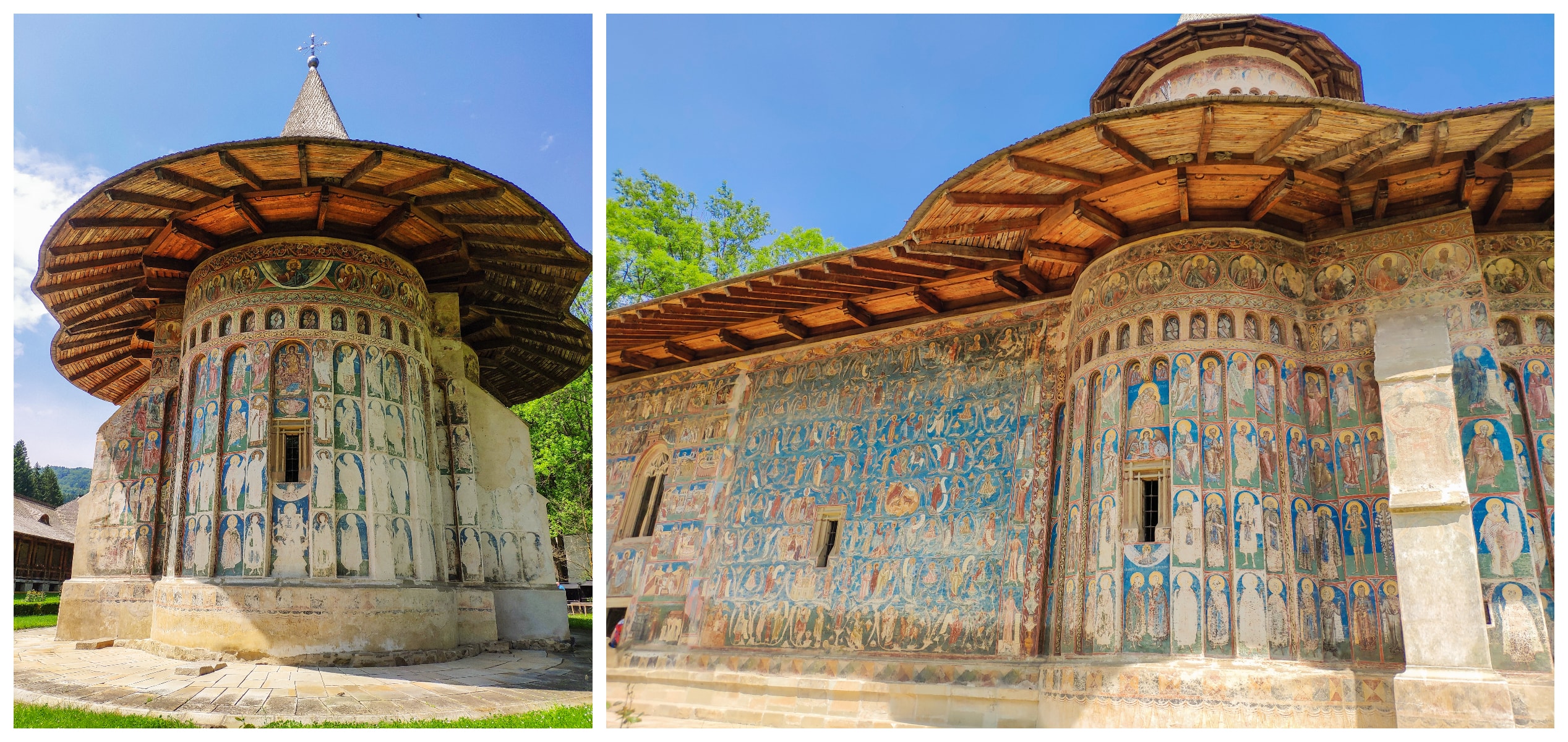 Voronet Monastery is where you will be able to find the most famous of the painted churches in Bucovina region. Well known by its' unique blye color used for outer walls. A color could not be reproduced so it got its's own name – "Voronet blue". Built in 1488 by Stefan the Great, Voronet is said to be one of the most prestigious monasteries founded by the Moldavian ruler. It fascinates visitors with its fabulous paintings that depict the lives of famous saints. Similar as Sucevita Monastery, Voronet is also hidden behind huge and massive medieval walls whose purpose was protect citizens.

On our way through the region we got many recommendations from locals who insisted to include this marvelous location in our bucket list. Even though we are not very religious, we listened, and we do not regret our decision as this masterpiece is in UNESCO World Heritage List not without a reason. Its spectacular architecture and deep history made Voronet very attractive to tourists. However, this is exactly why we recommend considering other options. For us there were too many people, so we would rather recommend Sucevita Monastery - peaceful place not overcrowded by tourists, but not less spectacular as Voronet.

Strada Voronet 166, Gura Humorului - Suceava county. Monday–Sunday from 9AM to 5PM. Price 1 EUR. Camera 2 EUR.
Sucevita Monastery
Sucevita Monastery - masterpiece of painted churches from Bucovina included on the UNESCO World Heritage list. Not many religious monuments are so fascinating and mesmerizing as Sucevita Monastery which marks the end of era when medieval religious art reached new level and is the last church with painted exterior walls from the region. Its rich and monumental exterior are the best conserved and the most impressive in whole region of Bucovina.

Done by a local team of artists in the 16th century, the paintings illustrate traditional religious themes, like Genesis with Adam, Eve, Abel and Cain and their well-known series of Biblical mistakes also 40 detailed scenes from Moses' life, seen above the burial room. The most impressive are the Prayer of all Saints - largest of all Moldavian wall paintings and The Ladder of John Climax or The Ladder of Virtues - a dazzling composition that describes monastic afterlife: heaven and hell for those who disobeyed the rules.

The history of the monastery starts in 1581 founded by Movila brothers Gheorghe Movila, Bishop of Radauti and Ieremia, prince of Moldavia. At first sight monastery looks like a medieval stronghold with walls 6 meters height and 3 meters thick and 5 heavily buttressed defensive towers with firing holes. During the times when the Ottoman Empire required the Moldavian state to destroy its fortresses, monasteries where fortified to use them as a safe retreat in the darkest times. Even a princely palace was included in the original fortification walls, giving an important role for this religious monument.

Nowadays the thick walls of monastery host a museum presenting an outstanding collection of historical and art objects.

Same as Voronet, Sucevita Monastery was recommended to us by locals. It was on our way and luckily, we got a chance to explore it before Voronet. Who knows if we would have come here after such experience in Voronet. Sucevita Monastery surpassed all recommendation and we are happy to encourage others to visit it!

Village Sucevita, Suceava county. Monday–Sunday from 9AM to 5PM. Price 1 EUR. Camera 2 EUR.
Fortified Churches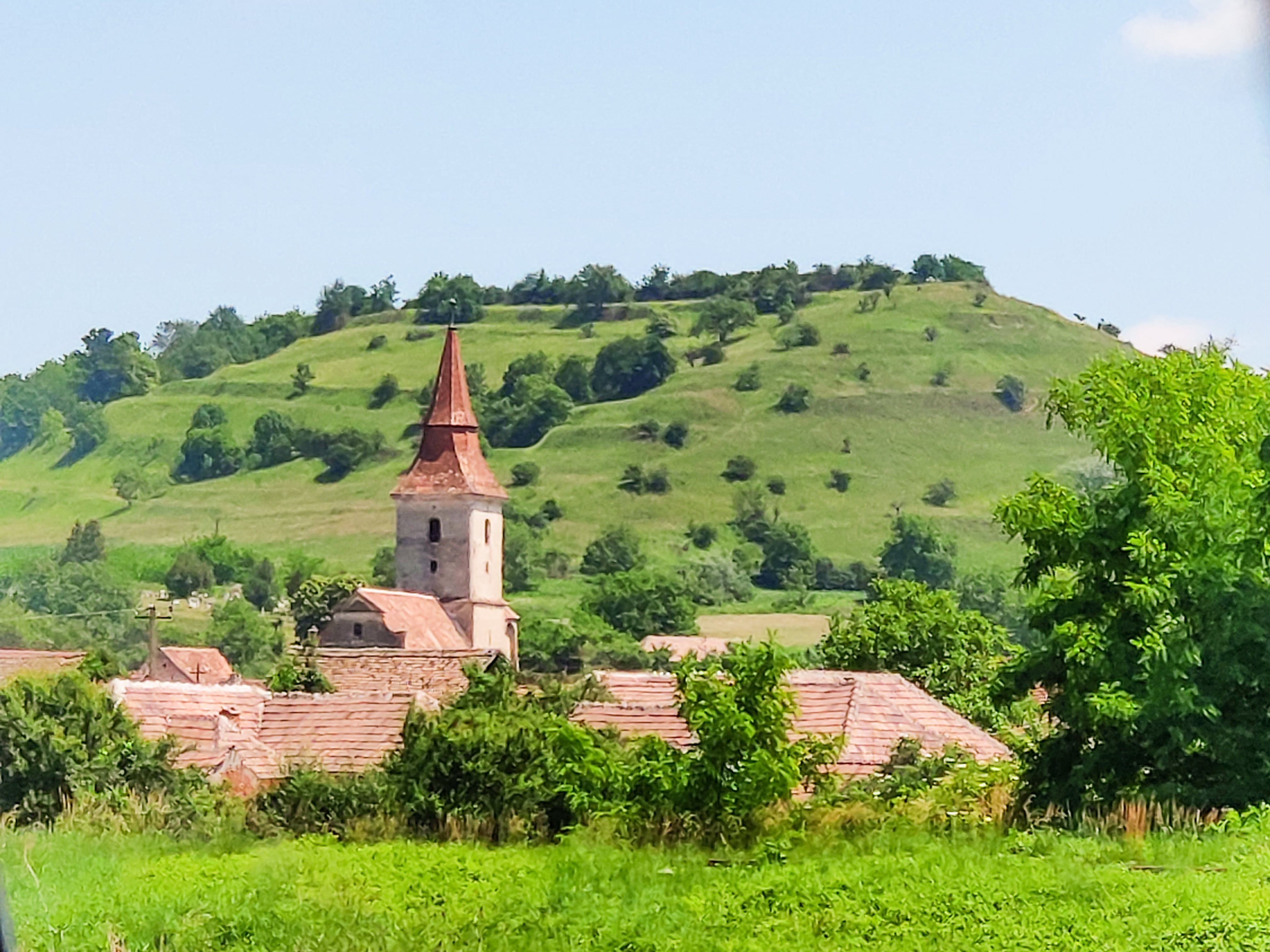 Throughout whole country you can find many of these Fortified Churches mostly concentrated in central Romania. People used to hide their valuables and use it instead of forts during invasions. Spectacular Monasteries in Bucovina was not an exception as well, they were fortified and in some you could find Prince residency chambers.

The reason behind the need to fortify churches instead of building actual forts was Ottoman rule during which they ordered to destroy all forts inside the country. Therefore, if people need refuge they used to come to these fortified churches.

We saw many of the Fortified Churches while traveling through Romania. Most of them has helped thousands of people and has a huge history behind them. Even while driving through, it will leave you an impression that it is one of the most important buildings inside the village.

All over Romania. Most of them if not all are free of charge.

Is there anything else you would like to visit while in Romania?

If you have anything in mind, please let us know and let's discuss it.

For more traveling tips subscribe to our newsletter!