Kyiv – a capital city of Ukraine, also sometimes called Kiev, situated in northern central region of the country and inhabited around 2,8 million people. Famous for its history, golden churches, impressive Soviet architecture, vibrant atmosphere, parks and local cuisine. In this article we want to share 9 reasons to visit Kyiv, thus, if you are looking for a reason to visit Kyiv, this article is for you.

Even though city is relatively big, and traffic is a real pain here, city has a metro, thus, it is quite easy to get around once you get used to it. In order to visit whole Kyiv, you might need more than a weekend, thus, keep that in mind as you count our 9 reasons why to visit Kyiv.
History of Kyiv
More than thousand years ago this port on the Dnieper (Dnipro) River was the center of Kyivan Rus, the firs eastern Slavic state. This city holds ancient and proud history. At some point it was even called as "Mother of Rus Cities". During the second World War it was severely damaged, however, it had been restored in mid-1950's. On second half of the 20th century it enjoyed a well-developed economic and cultural life. Ukraine became independent from the Soviet Union in 1991. This eventually led Kyiv on becoming major European capital.
Architecture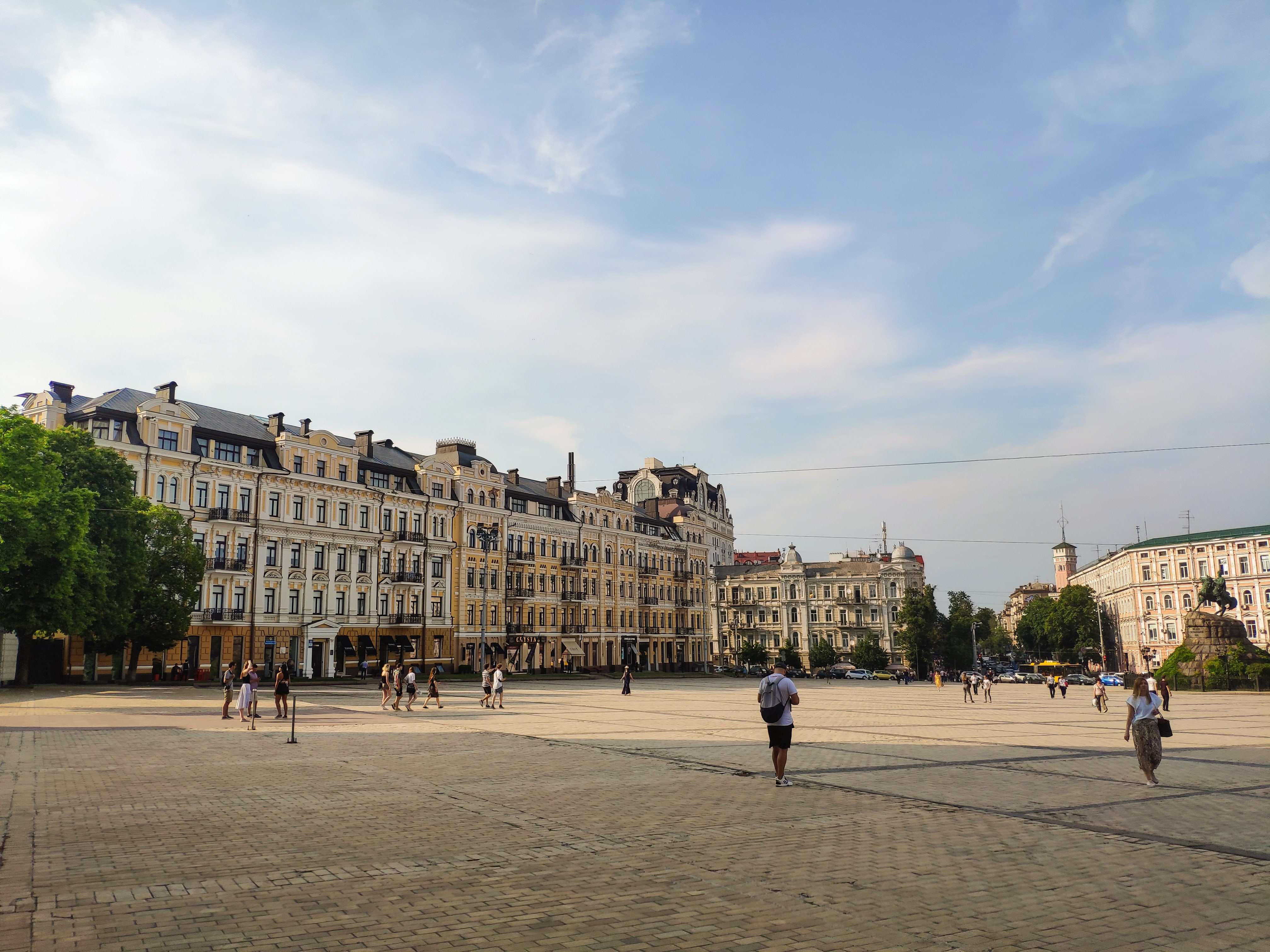 You will find that Kyiv is concentrated in the area of the ancient Upper Town, crowning the high bluffs of the Dnieper. Even though most of it was rebuilt after the war, this central area retains its old street pattern, and most of the surviving historical and architectural monuments are located there.
In former Old Town you will find most of the city's museums, theaters, and public buildings as well as the principal shops. Main street in Kyiv is called Khreshchatyk, near which you can find gardens, office buildings and most importantly the Maidan Nezalezhnosti ("Independence Square") which was the center of the Maidan protest movement that led to Ukrainian Pres. Viktor Yanukovych's being deposed in February 2014.
Golden Churches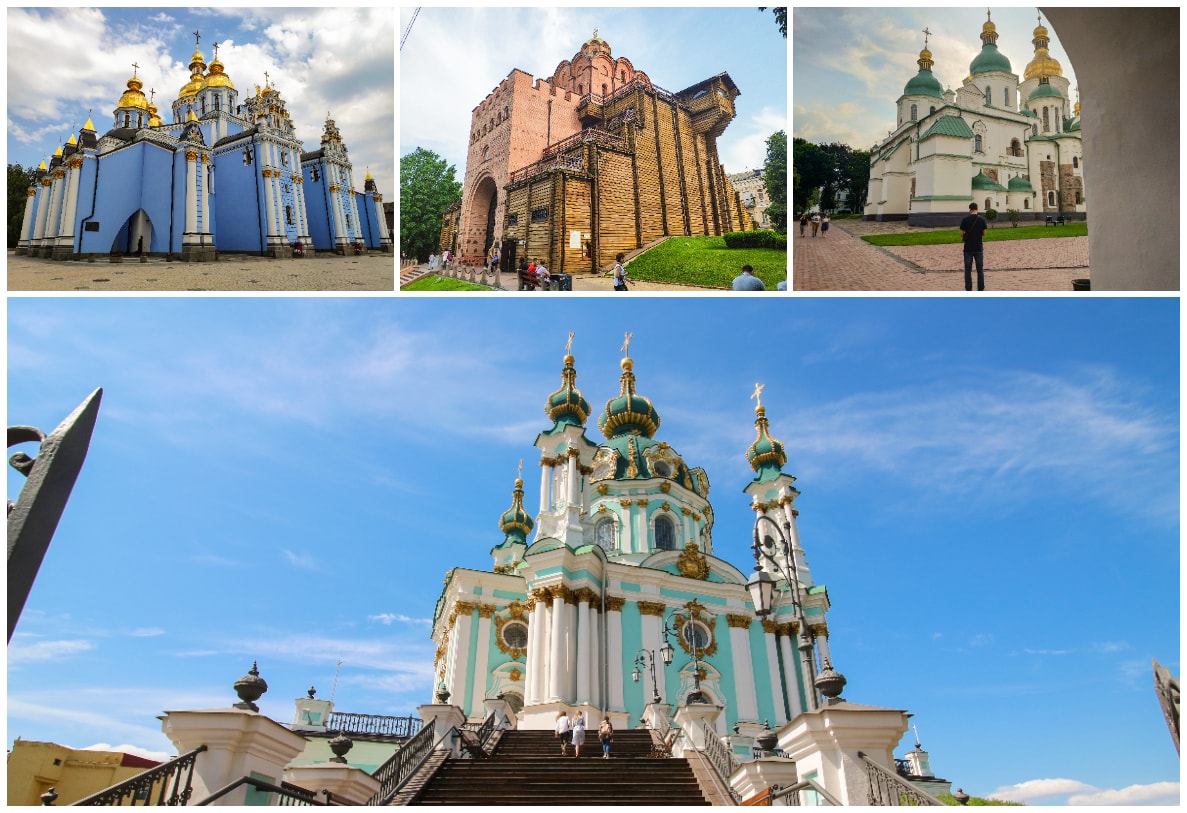 First among the historical and architectural monuments is the cathedral of St. Sophia. Nowadays it is a museum. Grand price Yoroslav I built it in the 11th century and now there you can find its remains. It was renovated in the 18th century adding certain Baroque modifications. It currently is one of the finest and most beautiful examples of early Rus-Byzantine ecclesiastical architecture. The interior is simply magnificently decorated with frescoes and mosaics.

Real close you can find one of the most stunning Baroque church we have seen so far – St. Andrew church. It was designed by Bartolomeo Rastrelli and built in the mid-18th century. Church site on the crest of the steep slope to the river will leave you speechless.

Other historical relics in the central area include the ruins of the Golden Gate, also built in the 11th century in the reign of Yaroslav and many more.
As the Kyiv-Pechersk Lavra (Monastery of the Caves) which was founded in the mid-11th century. It is one of the most famous and important monasteries in the history of the region. When visiting you will feel like you are inside a district of golden domes. Here in Kyiv they really like to decorate both interior and exterior of the churches with gold. We are not saying anything, but if you consider yourself a "Gold digger" this is one more reason to visit Kyiv city!
Impressive Soviet era buildings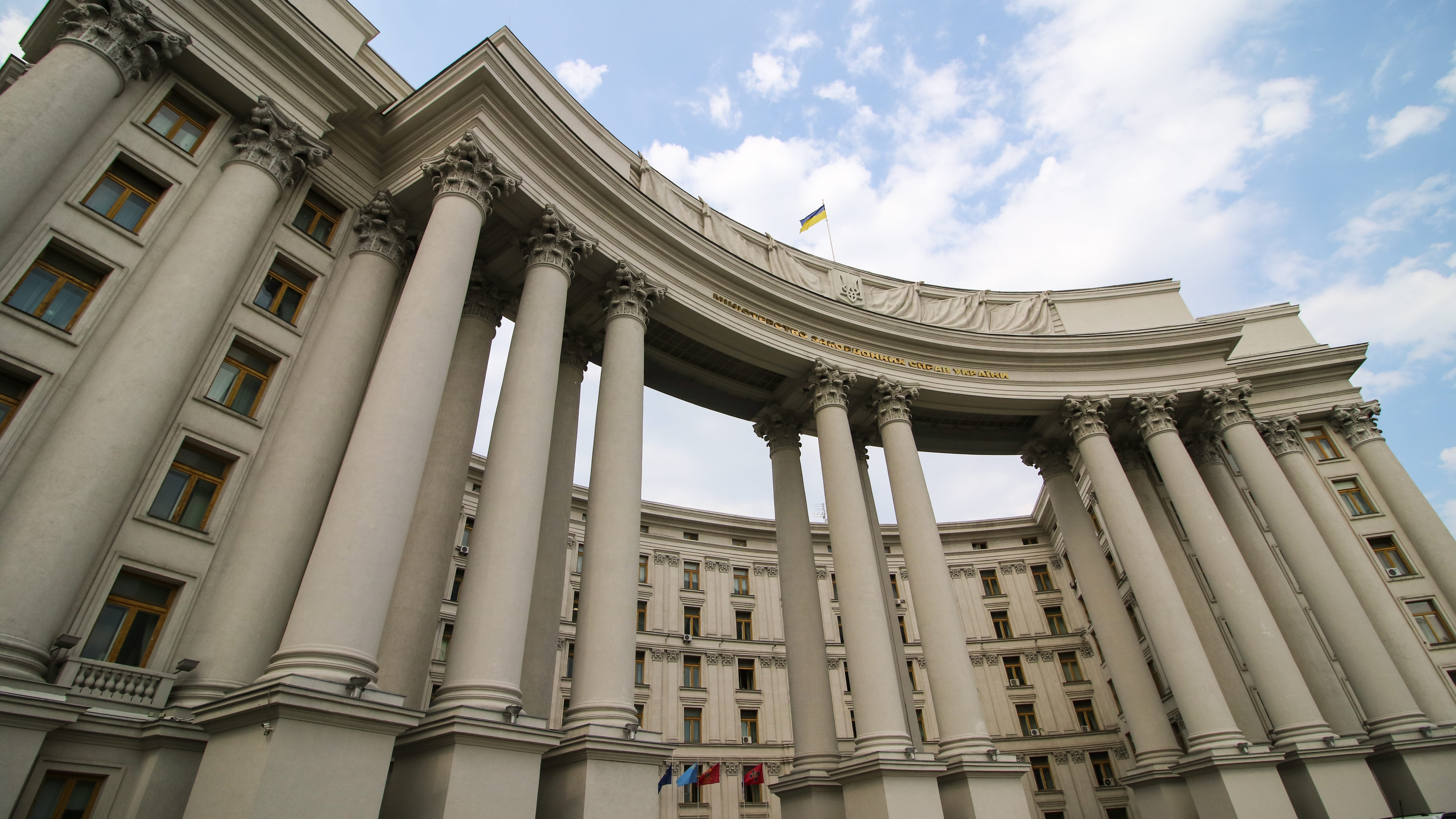 We have one other significant segment here and it is old, Soviet era, monstrous buildings. Even though Golden Churches plays major role in Kyiv's architectural and cultural life, they are mostly oriented in tourism and believers. While these huge buildings serve different purpose – they are workplace for major countries political institutions. When we saw these buildings, the city reminded us Minsk, Belarus as most likely the buildings were built in similar period.
For us one of the most impressive Soviet era monuments became – "Mother Motherland". Statue-monument is part of the Museum of the Great Patriotic War of 1941-1945. This museum was opened on May 9, 1981 in honor of the Soviet victory in World War II. Initially architects planned to cover the sculpture with gold leaf but later abandoned this idea and have chosen for sculpture the cladding of stainless steel. According to locals' total weight of the sculpture "Mother Motherland" is approximately 650 tons. And it's total height is somewhere around 62 meters, given the height of the pedestal - 102 meters. When from up close it is clearly visible that her right hand "Mother Motherland" holds a 16-meter sword and in her left hand a massive shield with an emblem of USSR. Both weights around 9 and 13 tons accordingly.
Vibrant city's atmosphere
In ancient times Kyiv was a cultural center and nowadays this tradition is still alive. It has comparatively good conditions for sports and recreation. There are several theaters, cinemas and open-air musical comedy theaters. City's people love to spend time outside and develops many hobbies and activities. One, not so common is Star Wars Jedi fights with clothing and light sabers. We noticed that mostly boys are fanatics, however, there were more girls who were really interested in learning and trying to perform well.
Local Cuisine
"Puzata Hata" – is a chain of self-service restaurants who offer local cuisine in Ukraine. In Kyiv city they have around 10 places, as well as, other restaurants in Lvov and Odessa. Locals recommended this restaurant as really good price and quality ratio holding place. The food here is decent and we enjoyed it after whole day on foot. When we arrived, we thrived to fill our bellies with local Ukrainian cuisine. We took borcsch and famous Chicken Kyiv – it was great and comparatively cheap! We recommend this place for those who want to try local Ukrainian cuisine with great price and quality ratio.
"Chicken Kyiv" – is a famous downtown restaurant where their specialty is well known Chicken Kyiv dish. We could not say no to a chance to try it! It was worth trying! Whatsoever, we did not feel anything special about it. Even though the food was delicious, the portions were really small and quite expensive, thus, for us it left negative impression and we would not come there again. However, the atmosphere and both interior and exterior there are quite exceptional. We would recommend going there at least once and see it for yourself whether you like it or not!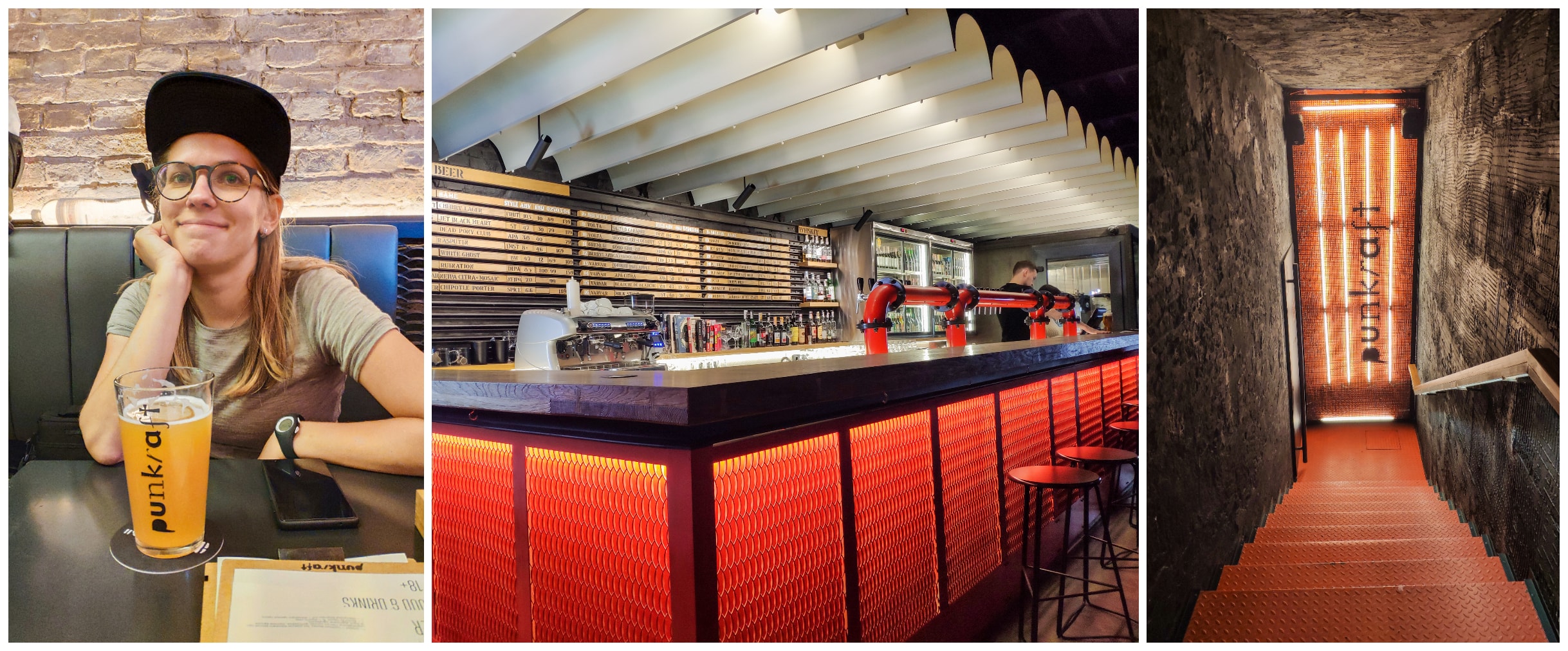 "Punkraft" – a craft beer bar which is said to posses the best beers in the whole city or even country! Found this location from our local host. We got to know that she loves beer and even attends to those festivals and beer tasting events abroad. Thus, we believed when she said that the beer in this bar is worth trying and we must visit! She was right, we enjoyed it, even if that was for a little while. We recommend this place for anyone who could call himself more like a beer fan.
"Kyivska Perepichka" – one more amazing place in Kyiv where you must get this "Perepicka" thing! Very well known and often visited, mostly by locals (You might encounter big queue). They come here to grab couple "Perepicka" during lunch hours, or just a snack while going somewhere near this place. For locals it reminds the old days as the taste is very similar which it used to be long ago. For us it was outstanding snack during lunch hours after which we could continue our adventures for couple more hours without thinking about food. And yes, they are specific, nevertheless delicious!
Relaxing parks
"People's Friendship Arch" – a well know structure similar to rainbow built to symbolize unity of Russia and Ukraine. It is situated on a hill close to "Volodymir the Great statue", both hills are surrounded by parks and just couple weeks before our arrival they opened a new glass bridge which connects these hills. Local people together with tourists thrive here during summer making picnic during day and drinking beverages in evening! The vibe of the city witch you can feel here is extraordinary! A must-see site both during the day and in the evening!
"Mariyinsky Palace" – exceptional Baroque style building built in year 1750-1755 where nowadays the President of Ukraine is accepting formal guests. They are situated near "Rada" or in other words Parliament. Close to the palace you can find calm and welcoming park. Here you can use public wifi or just relax in a shade. There are a lot of police and military personnel around because of all the governmental buildings there. If you are not the park person go there for the palace, both are worth visiting.
"Eternal Glory Park" – in different side of the town than all other parks worth to mentioning. Situated on top of a hill, close to Dnieper River. In mornings and during the day you can meet a lot of people who is doing jogging here. The view is nice, it has couple huge monuments and is on the way to "Motherland Monument" or "National Kyiv-Pechersk Historical and Cultural Reserve". But if you are not going to visit these two, we would not recommend coming just for this park.
"Schevchenko park" – this lovely park is situated just outside the main University of Ukraine – "Taras Schevchenko Nation University of Kyiv". We found it very relaxing and with couple nice fountains it has its own charm. Students come here in between their lectures or while they have some brakes for snacks.
Safety
Kyiv is as safe as any other European city, may it be from Western, Norther or Southern Europe. Crime against visitors is considerably low, people here are very nice and friendly. Most of them are always ready to help. Anyway, you should always keep in mind safety of your belongings and trust your gut when you get in a troublesome situation. We enjoyed Kyiv and found it to be relaxing. Safe travels everyone!
Kyiv is affordable city
The title says everything. Of course, it depends where you come from and your background as well. Either way, we state that Kyiv is an affordable capital! As whole Ukraine is affordable country - for Kyiv to be affordable is only natural. Especially for Europeans, we found it relatively cheap and affordable to do or buy things, food, drinks or services here. Average salary in Kyiv, Ukraine is around 350 EUR, while minimum wage is slightly more than 110 EUR.

Unfortunately, Kyiv and Ukraine itself is mostly affordable for visitors and well-paid locals. While there are people who need to survive with very small amounts of money. During our visit, we were enlightened that there are groups of people who get 50 EUR a month and need to manage somehow.

Is there anything else you would like to visit while in Ukraine?

If you have anything in mind, please let us know and let's discuss it.

For more traveling tips subscribe to our newsletter!